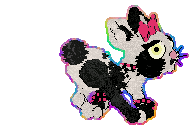 Welcome to my Petz and Babyz site!
I mostly do petz stuff, but I'll put a little babyz stuff on here too! You can use the menu on top of the page to navigate around! If you wanna see my tutorials or other insanity, go to my lab site on the menu!
Also use these if you wanna link to me! :D


Who am I?
My petz aliases are PikaGlitch, Kay, K, or Pika. My owner name is usually PikaGlitch@Neocitie (RIP my old site and owner name). My prefix is K's.
My Old Site
My Rules:
For any of my downloadable content, I'm mostly cool with anything. If you distribute anything created with my stuff, all I ask is that you credit me (and maybe show me what you made!)


If you adopt a bred non-hexxed pet from me, you may do anything with it. You may even turn it into a breed!


But don't turn my download adopts into a breed. (From the kennel)


If you adopt a hexxed or brexxed pet from me I would prefer that you do not modify it. You may snoop in the code, but please no copypasting!


Any petz adopted from me may be deleted, but I would prefer that you put it in mpa.


My prefix is K's. Please use it :)
I actually encourage you to make breeds or other things with my downloadable content. It would make me very happy if someone made custom foxes, bunnies, etc!